The Congressional Hispanic Leadership Institute is proud to spotlight CHLI Board Member, Vice-Chairman Congressman Mario Diaz-Balart (FL-25). The Congressman was elected into the House of Representatives in 2002 and is currently serving his seventh term. He serves in the House Committee on Appropriations and is the chair of the Subcommittee on Transportation, Housing, and Urban Development, and is a member of the State, Foreign Operations, and Related Programs and the Defense Subcommittees, and the House Committee on the Budget.
Congressman Diaz-Balart was elected into the Florida Senate at age 31, making him the youngest person to have ever been elected. He was also the first Hispanic to serve as Chair of the Combined Appropriations/ Ways and Means/ Finance and Tax Committee. During his time as a legislator, Diaz-Balart has ranked among the most effective legislators in Florida and has developed a reputation as a budget hawk, and supporting minority voting rights.
Congressman Mario Diaz-Balart with colleagues, Congressman Henry Cuellar
and Congresswoman Ileana Ros-Lehtinen
"My friend and colleague Congressman Mario Diaz-Balart is hardworking and dedicated to serving his Florida constituents, as well as the American community. It is an honor to work side-by-side with him on the CHLI Board of Directors," CHLI Vice-Chair, Congressman Henry Cuellar said.
While in Congress, Congressman Mario Diaz-Balart has worked to make American homes and communities safer and stronger when presented with hurricanes and other natural disasters. In 2013 he introduced the Safe Building Code Incentive (H.R. 1878), legislation that would provide financial incentives to states that adopt and enforce nationally recognized model building codes. Additionally, he introduced the Disaster Savings and Resilient Construction Act (H.R. 2241), incentivizing home and building owners to utilize resilient construction methods when building and renovating homes and commercial structures in federally declared disaster areas. As a result, the passing of these bills would save tax payer dollars and minimize the risk of property damage, and reduce the loss of life. The Congressman encourages hurricane preparedness and ensured federal relief in the aftermaths of Hurricanes Katrina, Wilma and Rita.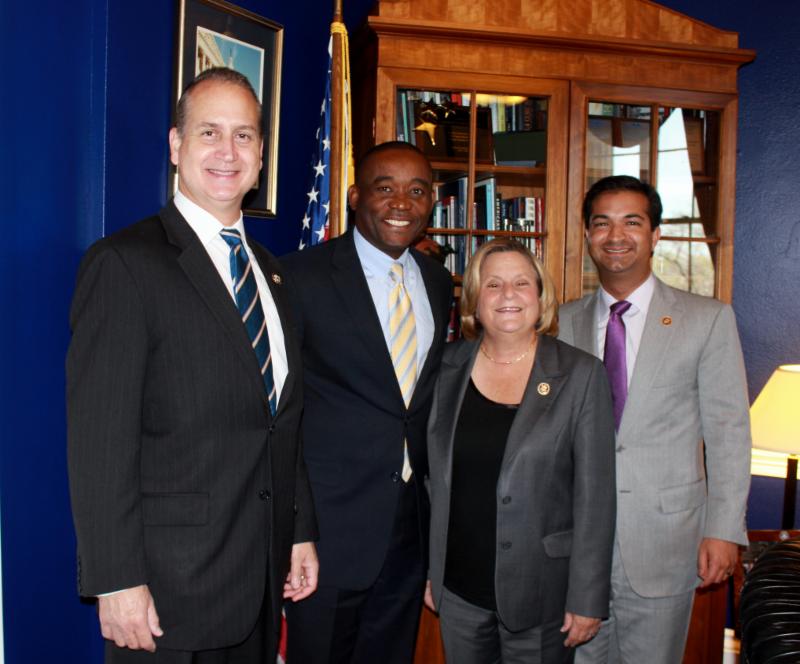 Congressman Mario Diaz-Balart meets with Miami Dade Commissioner, Jean Monestime,
Congresswoman Ileana Ros-Lehtinen and Congressman Carlos Curbelo
Congressman Diaz-Balart is also a strong proponent of improving public safety and transportation. While in Congress he has helped deliver millions of federal dollars for the I-75 widening project and Miami-Dade transit. As founder and co-chair of the Everglades Caucus, he consistently fights to secure funding for the restoration of the Everglades and has prevented mass funding cuts in the recent years.
"As Chairman of the Appropriations Subcommittee on Transportation, Housing and Urban Development, Congressman Diaz-Balart is the leading voice on national infrastructure and housing issues. His leadership and common sense approach to complex problems benefits all Americans," CHLI Board Member, John Hoel, Altria Client Services, Inc. said.
Congressman Mario Diaz-Balart engages with students, offering advice on how to be leaders
As Vice-Chair of the Congressional Hispanic Leadership Institute, Congressman Mario Diaz-Balart is a strong proponent of youth programs and education. He hosts congressional interns in his office and encourages the development of future leaders.
"Congressman Mario Diaz-Balart is dedicated and committed to working towards a better future for our country's youth and Hispanic community. He has always been ready to help, ever since the founding of CHLI. He and his staff, especially Chief of Staff, Cesar Gonzalez, are pillars in our CHLI familia," CHLI Executive Director, Mary Ann Gomez said.
CHLI Chairman Lincoln Diaz-Balart, Fall 2014 Global Leaders Fellows,
CHLI Board Member David Olivencia and CHLI Vice Chairman, Congressman Mario Diaz-Balart
Mario Diaz-Balart is the youngest of four siblings. He studied Political Science at the University of South Florida in Tampa. He currently resides in Miami, Florida with his wife and son.