Stephen D. Vermillion
The Congressional Hispanic Leadership Institute (CHLI) presented the Stephen D. Vermillion Award on July 22, 2015 to Hector Arguello, Congressman Carlos Curbelo's Legislative Assistant and Alice Lugo, U.S. Senator Robert Menendez's Chief Counsel. These two congressional staff members support the advancement of the Hispanic community in the United States. They have demonstrated their support for CHLI's programs and activities, and share CHLI's dedication to the Hispanic community's economic development, political involvement and educational opportunities.
In 2012, CHLI presented this award to Stephen D. Vermillion; he helped launch CHLI in 2003 and was a dedicated public servant for 18 years. Late that year, the award was named in honor of the late Capitol Hill staff member to carry out his legacy and passion for training future leaders.
CHLI Chairman, Lincoln Diaz-Balart, Jennifer Vermillion, Hector Arguello, Alice Lugo, Congresswoman Ileana Ros-Lehtinen, Congressman Mario Diaz-Balart, and CHLI Executive Director, Mary Ann Gomez
"It is my honor to recognize Hector Arguello and Alice Lugo with this prestigious award named after my dear friend Stephen D. Vermillion. Steve was the personification of what a congressional staffer should be; hardworking, with absolute integrity, and always serving the nation and our community," CHLI Chairman, former member of Congress, Lincoln Diaz-Balart said.

Hector Arguello was born in Costa Rica to parents of Nicaraguan descent. His family escaped the Sandinista Revolution when he was 23 months old. He spent most of his youth in Miami, but after hurricane Andrew in 1992 attended Valley Forge Military Academy in Wayne, Pennsylvania. While there, he rose to become the school's youngest captain in its 87-year history, graduating as artillery commander, leading his unit to be named as Best company of the Year, his proudest accomplishment yet. Recently, he had a medal named in his honor there. Arguello attended George Washington University in Washington, D.C. and majored in political science.
Within Capitol Hill, Arguello has held several positions including some with CHLI Chairman, former Member of Congress, Lincoln Diaz-Balart, Congressman David Rivera and Congressman Mario Diaz-Balart. Today, he serves as Congressman Carlos Curbelo's legislative assistant.
"I can honestly say that my life was positively turned for having known Steve. He took a chance on me and I am forever grateful for the opportunities that faith opened up for me. He was more than a boss to me. He was a mentor and a friend and I miss his guidance dearly," Hector Arguello said.
Alice Lugo is the daughter of Mexican immigrants; she grew up in Omaha, Nebraska. Her parents taught her the value of hard work, discipline and the importance of an education. Lugo received her law degree from Creighton University. After law school she joined Ayuda, a non-profit in Washington, D.C. where she served as a supervising attorney for domestic violence, family and immigration law representing undocumented immigrants. Alice joined Representative Luis V. Gutierrez's office as Counsel where she focused on immigration reform negotiations during the 113th Congress. Late last year, Alice joined the office of U.S. Senator Robert Menendez as Chief Counsel where she continues to focus on important matters impacting immigrant communities.
"It is an honor to receive this award from the Congressional Hispanic Leadership Institute. The award acknowledges the bipartisan work on Capitol Hill to reform our broken immigration system and advancement of the Latino community," Alice Lugo said.
A special thank you to CHLI Board Member, Ray Dempsey from BP America for hosting CHLI's Congressional Staff Appreciation Reception and to our sponsors, American Beverage Association, Baxter, Constellation Brands - Corona Extra, Pfizer, MillerCoors and Walmart.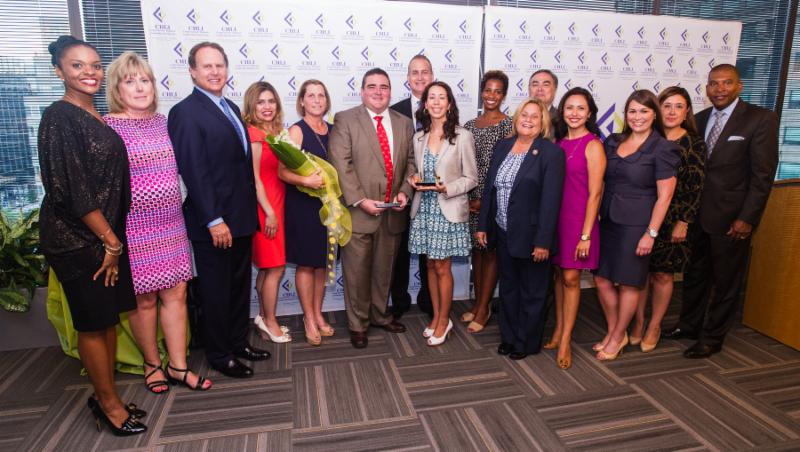 CHLI Corporate Advisory Council Member Mariko Bennet, Corporate Advisory Council Member Linda Auglis, CHLI Chairman Lincoln Diaz-Balart, Board Member Susan Santana, Jennifer Vermillion, Hector Arguello, CHLI Vice-Chairman, Congressman Mario Diaz-Balart, Alice Lugo, Board Members Patrice Webb, Congresswoman Ileana Ros-Lehtinen, Orlando Padilla, Belinda Garza and Lauren Robitaille, CHLI Executive Director Mary Ann Gomez, and Board Member Ray Dempsey.